Contents
1. Introduction

2. Access to webmail
2.1 Access control
2.2 Logging in
2.3 Getting started with Squirrelmail
2.4 Loggin out

This chapter provides a very brief description of Squirrelmail, the webmail application that is used in ServerAtSchool. This chapter is illustrated using the mailbox of Helen Parkhurst, teacher at the Exemplum Primary School. See section 2. The Exemplum Primary School in chapter II. ServerAtSchool User Manual Overview for more information.

Helen has received the following 'password letter' from Freddie Frinton, the local systems administrator. For clarity the lines of interest in this password letter are emphasised in the illustration below.

PASSWORD LETTER

This letter contains the secret passwords you need to use the
facilities of our server at school. Please keep these passwords to yourself.
Do not show this letter to anyone else.

- You need the information under 'Network Logon' when you want to logon to
  the school network.
- You need the information under 'E-Mail' when you want to  access your 
  mailbox via webmail.
- The information under 'Teleworking' is required when you want to work at
  home with documents and files on the server at school. Note that it is
  important that the key fingerprint matches when you logon from home for
  the first time. If there is a difference, you should cancel the
  logon attempt and tell Freddie Frinton about it.

Name:                Helen Parkhurst

Network Logon:
UserID:              hparkh
Password:            ahgiesah

E-Mail:
UserID:              hparkh
Password:            wWITa4ye

Teleworking:
UserID:              hparkh
Password:            wWITa4ye
Hostname:            praeceptor.exemplum.serveratschool.net
RSA key fingerprint: 24:8f:3a:85:0a:d1:25:d6:81:14:b0:22:b6:62:55:39

Helen needs this information to authenticate herself when she wants to access her mailbox with Squirrelmail.

Access to webmail on the ServerAtSchool server can be limited. The local systems administrator or the ICT coordinator is able to limit webmail access for every individual user. The possible choices are listed below.
No access
Webmail is not accessible at all. This option is often used for individual pupils at school.
Access from within the school
Webmail can only be used from a workstation that is connected to the LAN (Local Area Network) at school. This option is sometimes used to grant nests (grades, classes) access to webmail in a controlled environment. This prevents abuse of the school e-mail facility by pupils from locations outside the school.
Access from pre-defined IP addresses
Webmail access is limited to one or more IP-addresses. This feature can be very useful to grant access to webmail to an individual user from a specific location outside the school. For instance that one pupil in grade 8 who is ill and has to stay at home for 3 months. By granting access to webmail for this pupil's home computer, she can keep in touch with school. If she also is allowed to work with school files and documents at home (see XII. Teleworking with WinSCP) sha can almost fully participate.
Full access
Webmail access allowed from anywhere, even from an Internet cafe in Amsterdam. This type of access is often granted to staff members.
Please ask your local systems administrator or ICT coordinator for full details of your own access privileges.

Depending on the way the school's website is configured, a special webmail login page may have been added to the website, as illustrated below.

NOTICE: It is possible that another webmail login page is available, at another URL, e.g. http://www.exemplum.serveratschool.net/webmail/ or perhaps http://webmail.exemplum.serveratschool.net. Ask your local systems administrator or ICT coordinator for details.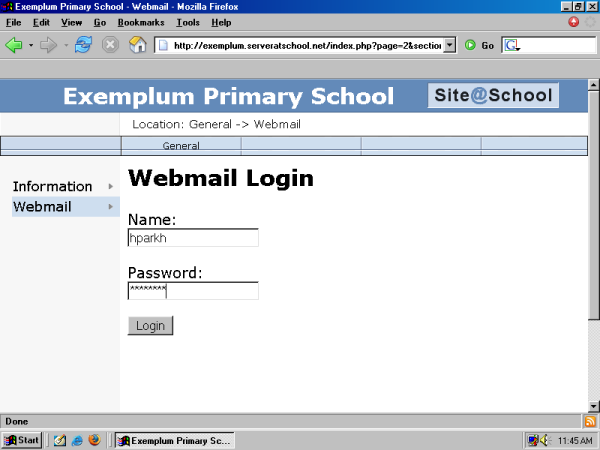 squirrelmail_exemplum_webmail_login.png
Note that Helen has entered her userid (here: 'hparkh') and her password (here: 'wWITa4ye') into the dialogue. The password is shown as a series of asterisks. This is a security measure.
After pressing the [Logon] button, the following is displayed.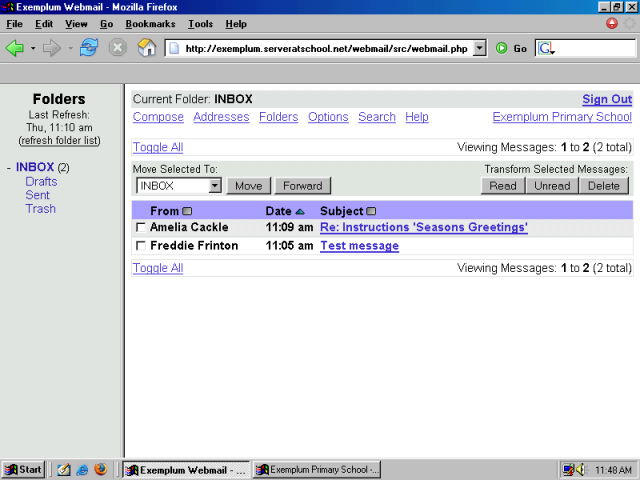 squirrelmail_webmail_overview.png

This is Helen's mailbox. At the moment her mailbox contains two e-mail messages, one sent by Freddie Frinton (the local systems administrator) and one by Amelia Cackle (the school's head mistress).

Now that Helen is logged in, she can use all the facilities that Squirrelmail offers. The most important facilities are:
Reading e-mail messages
By clicking on the Subject-line of a message (e.g. 'Re: Instructions 'Seasons Greetings'' or 'Test message'), the message is displayed. Once it is displayed, it can be read, replied to, deleted, forwarded, etc.
Composing new messages
By clicking on the link 'Compose', a new messages can be written. Once a message is written in the compose window, it can be sent, saved or discarded.
Configuring options
By clicking on the link 'Options' you can configure Squirrelmail settings such as the sender name and address (e.g. 'Helen Parkhurst', helen.parkhurst@exemplum.serveratschool.net).
Return to the INBOX
You can return to the list of received messages by clicking on the linke 'INBOX' in the left hand pane. This always brings you back to the list of received messages.
If you click on the link 'Sign Out' in the top right corner, the webmail application program will close and you will be taken back to the school's website, e.g. back to the login page that was displayed in section 2.2 Logging in above. Squirrelmail has an excellent online help function. It can be accessed by clicking on the 'Help' link available on nearly every Squirrelmail dialogue screen.

Another good source of documentation is the project's website at www.squirrelmail.org and more specifically the online Squirrelmail manual in the form of a wiki at www.squirrelmail.org/wiki/UserManual.

Furthermore many, many introductions to Squirrelmail have already been written. You can use your favourite Internet search engine to find a plethora of information, e.g. using the keywords 'squirrelmail', 'introduction' and 'school'.

Authors: Peter Fokker <peter (at) berestijn.nl> and Dirk Schouten <schoutdi (at) knoware.nl> $Id: squirrelmail.html,v 1.6 2006/04/05 09:24:10 peter Exp $